Lito's total saturation Breakthrough Ski Weeks are no longer offered each season in Aspen.
But I want to encourage you to contact some of the truly remarkable ski pros that I worked with in Aspen and Snowmass for over a decade... Why?
Because life is too short not to live it as an expert skier... and because these ski pros are simply the finest I have ever known and worked with.
Two Aspen instructors, in particular, stand out in my mind for their depth of experience and their total commitment to gving their students "the keys to the kingdom," the real secrets of modern expert skiing. I am talking about Lavelle Saier and Mike Romanus, who were the course coordinator for our Breakthrough on Skis Ski Weeks for many seasons.
I think that private lessons with either Lavelle or Mike, on any of the four Aspen/Snowmass mountains, have to be the ultimate ski learning experience. They routinely lead their students to a whole new level of expert skiing skill. But if Lavelle or Mike are not available for private lessons during your stay in the Aspen/Snowmass area, they can gladly put you in contact with some of the other highly skilled and trained pros who worked with me in my Breakthrough Ski Weeks over the years.
You can contact Lavelle Saier or Mike Romanus, at the following addresses:
Lavelle Saier at ocean-eyes@msn.com
Mike Romanus at rom@rof.net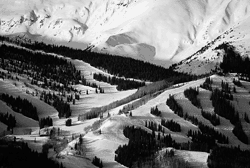 I don't want to end this page without one last, and heartfelt, expression of thanks to my many students over the years, to the wonderful pros I have worked with at Aspen. And not least, special thanks to the Aspen Ski School, for always backing and supporting innovative new directions in ski teaching. Bravo Aspen!