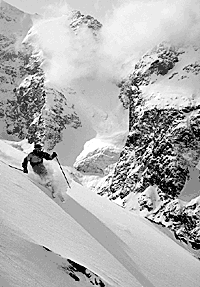 above: on the Morteratsch glacier
below: skiing below teh Persioan Island on the Moteratsch glacier
photos © Linde Waidhofer
from the March 1999 issue
of BreakthroughOnSkis.com
Secret St. Moritz
Down the Morteratsch Glacier...
....Engadine explorations: After St. Mortiz' two "local" ski areas, Corviglia and Piz Corvatsch, the next stops on our list are Lagalb and Diavolezza, near the summit of the Bernina Pass leading out of Switzerland into Italy. These are the highest of all the ski areas you can reach and ride with your Engadine ski pass–two big cable cars on either side of a ribbon road winding through a white-on-white world high above the Engadine Valley, above timberline, above everything. Most days during our visit, these two areas kept their heads in the clouds. Ghostly telepherique cables swinging off into the fog. Skiers emerging one by one from the clouds like fallen angels in full retreat back to earth. Less than inviting. But in the end, all clouds clear, all storms break. In the end we're standing at the top of the Diavolezza Bahn, looking over the back side of the mountain, into a broad glacial cirque where skiers–they must be skiers, even though they look like a long line of tiny ants, black dots against pure white–are heading down the most famous run in the whole region, the Morteratsch glacier. The big peaks, Piz Palü, Piz Bernina, Piz Roseg, are still playing dress-up with cloud scarves and mist cloaks, but stray sunbeams tell us to go for it.…
Glaciers, it must be said are fun to ski not so much because the skiing is fun, which it usually is, but because of the sense of trespassing in a realm where skiers manifestly don't belong. Skiing on stolen time, through a forbidden kingdom–although the Morteratsch is actually one of the easiest, friendliest glacier runs I've ever been on. The skiing is not quite as easy as New Zealand's Tasman glacier, but far friendlier than Chamonix's Vallée Blanche, and the scenery just as breathtaking, jawslacking, heartpounding.
Halfway down, the ski track leaves the glacier proper, just when it seems headed for a serious drop-off complete with impenetrable mazes of crevasses and ice walls, and climbs up the left bank onto a rocky island. This outcrop bears the improbable name of the Isla Persa, the Persian Island, and must be one of the worlds ten best picnic spots. Sitting on granite slabs, kicking our ski boots above a riptide of frozen ice, munching salami and chocolate, we think about our overpriveledged counterparts lunching back in St. Moritz, at La Marmite, the gourmet restaurant on top of the Corviglia cable train. Where lunch sets you back at least $100 a person. Where the only surreal visions are outrageous ski suits that make well heeled German matrons look like they're auditioning for a Fellini film.
We smile at winning the "memorable-lunch" sweepstakes, and push off with many fantasy kilometers left to go; ice caves to explore beneath the Persian Island; a roller coaster of frozen icewaves on the lower glacier; the terminal moraine and a gentle slide down a summer hiking trail. Back to a cafe in the middle of nowhere, on a bend in the narrow-guage rail line to Italy where we sip beer and wait for our iron-horse shuttle to take us home to St. Moritz.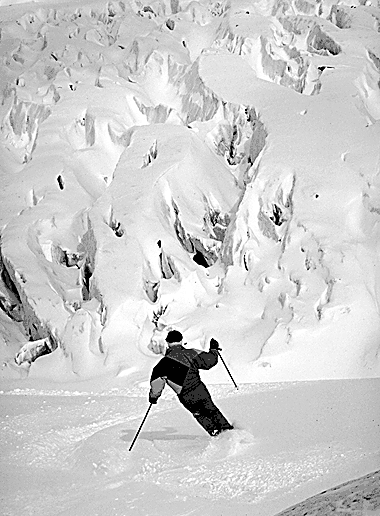 Our day on the Morteratsch illustrates the fundamental paradox, and charm of St. Moritz und umgebung ("and its surroundings…").You can go to St. Moritz like a voyeur on the set of "Lifestyles of the Rich and Famous," gawk at people spending more in a day than you spent on skiing all last season, feel nouveau poor instead of nouveau rich because our U.S. dollars have shrunk so against real hard currency like the Swiss Franc, and wind up skiing only beautiful but very undemanding slopes. (Because everywhere in the world, the ski slopes favored by the truly wealthy tend to be truly easy; and resorts have learned that the way to keep moneyed guests happy is to pamper them, not challenge them.)

Or you can set your sights on St. Moritz, as we did, less as the luxury capital of international skiing, and more as the center of an amazingly rich and diverse mountain/ski/vacation environment. You can fall under the spell — as we did — of fabulous villages like Zuoz, Sils, Celerina and spend an unforgettable week for the cost of a five-star weekend in downtown St. Moritz. You can take your ski pass — as we did — and use it to visit a whole raft of different ski areas (like skiing Aspen, Vail, and Copper on one trip to Colorado). And you can let your desire for untracked powder lead you as far off the piste as your skier's judgment permits, and wind up — as we did — with enough grand memories to last at least another year. To last until you return — as we plan to.