A
Perfect
Day
in the
Alps

Sainte Foy
en Tarantaise
France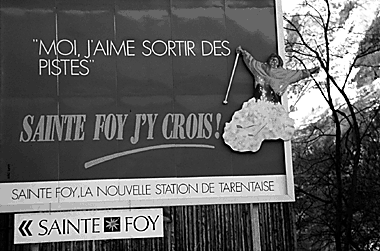 WINTER DEALS YOU DAYS out of an infinite and well shuffled deck Some hands you can't play, some days you can't win, some snow you can't ski. And sometimes it's the opposite. Every card you lead wins, every turn is a beauty, every moment memorable and finally you realize that winter's dealt you a perfect day, not just good but perfect. You never know. You never know you're waking up to a perfect day. We didn't, as the sun tiptoed in from the third-floor balcony of our hotel in Sainte Foy and found us hiding under a down coverlet and shook us gently awake with promises of blue skies and new slopes and strong French coffee and warm milk and warm kisses. Promises kept.
Sainte Foy en Tarentaise is a very small village on the side of a very big hill. It clings to the steep flanks of the Tarentaise Valley across from the glacier laden backside of Les Arcs, high above the Isère river tumbling down from Val d'Isère toward Bourg St. Maurice. Skiers traveling in the opposite direction, from Bourg up towards Val d'Isère, pass through Sainte Foy in seconds without even slowing down, in three twisty turns of the narrow two-lane road, 4-cylinder engines in high-rev heaven, tires squealing, yellow French headlights slicing up the last wisps of valley mist....
But we're here, and today we'll be skiing a new area, not just new to us but really new, brand new. With an almost irrational optimism after three devastating years of drought in the Alps, the tiny village of Sainte Foy has just built and just opened its own ski area. What a brave idea. The marketing slogan for this new ski area is a French play on words (given that Sainte Foy means 'holy faith,' as in 'Santa Fe') Roadside billboards rhymed: "Sainte Foy, j'y crois!" or "I believe... in Holy Faith!" As yet, there were few believers.
THE SLOPES OF SAINTE FOY tumble down from the Aiguille de Fogliettaz, near the Italian border. This area used to be famous for heliskiing before France banned le helico from its mountains as too noisy and too ecologically insensitive. But the terrain is still the same. And three brand new quad chairs, stacked one on top of the other, open up a mountainside miles wide and over 3,000 vertical feet high. In other words, although tiny by European mega-resort standards, Sainte Foy is already as big as a large ski mountain in the Colorado Rockies. Big enough to get lost on, considering only a small portion of the mountain is pisted and marked.

But today we don't get lost. Today we ride the three nearly deserted quads up to a high ridgetop balcony, drop back over the Col de l'Aiguille and dance down steep lightly moguled pitches of perfect cold windblasted snow. This snow is a revelation considering that it hasn't snowed for over two weeks in the western Alps and, as a result, all the slopes we've been skiing the last few days, at Courchevel, at Val d'Isère, at bigger 'name' resorts have been bulletproof, teeth-rattling, scraped ice. Yet here at Sainte Foy, with no crowds to scrape away the snow, without very much sunshine on this side of the mountain either, it's winter once again. Real winter, real snow, cold and deep on a steep undulating cliff-cut face (imagine the top 100 feet of Siberia Bowl at Squaw Valley but dropping for 1500 feet). We traverse sideways through tiny passes, skirt forbidding rock bands, follow tumbling rivers of semi-packed snow through every puzzle, every labyrinth down this challenging, half-wild but never-tame terrain. This is exhilarating, serious, black slope skiing.

Today, we've hit the jackpot, broken the bank. Today our skis obey us like well trained thoroughbreds; muscles too, legs flexing through a hundred arcs in piston-perfect synch with our greedy skiers' eyes, our insatiable skiers' curiosity. We are devouring a new mountain, a skier's feast, a multi-course banquet of cliffs and couloirs, powder and piste. We ski ourselves silly, we can't stop smiling.

Back on top of the mountain someone smiles back. A ski patrolman, or pisteur, waiting on duty at the top lift station is passing the time by shoveling an immense snow sculpture out of a steep cornice face. He's happy to talk. "You should ski down here." He waves down the backside of the mountain, away from Sainte Foy, away from the pistes, away from everything. A high alpine valley twists away beneath us, no lifts, no trail markers, no sign of anyone except a half-dozen ski tracks, shrinking to invisibility in the middle distance. "You follow this valley down around the corner, through that pass into the next valley; it's a bit steep there but not bad, and then you come out at the hamlet of le Monal. It's tiny, just shepherd's huts, no one lives there in winter, but you'll see, it's sublime. Vous verrez, c'est sublime."
AND INDEED IT WAS SUBLIME. Every turn. The wide empty valley turning and twisting, our ski tracks following the strong simple contours of these high snow covered alps. Past isolated stone barns–gray granite roof slabs bright with flame-orange lichen. Hundred-meter schusses out into featureless flats; inviting drops at the edge of hanging valleys; drifting down, down, toward the trees which, in the French Alps, are always way, way, down below the peaks; slaloming though dark shadows of the first melezes, alpine larch trees. Somehow we don't get lost, somehow we follow the patroller's vague instructions: "when you get to the end of that long valley, and it's too steep to ski straight down, there's a kind of road that traverses left into the next valley; down there you'll find le Monal."

Sure enough, down there we find le Monal, your basic high-alpine summer shepherds' village, centuries away from today - this place of fairytale stone barns, chalets, scattered like a random toss of dice across a sunny bench beneath dark dead-end cliffs that we have somehow skied around. Under the midday sun, fringes of icicles drip in slow water-clock rhythm from the edges of massive stone roofs.

Across the valley the dark north-facing slopes of the Aiguille Noir glow ice-blue and dark white, scary luminous shadows. But we're on the sunny side of this immense Isère valley. No glacier tongues here, no falling seracs, only this sleeping deserted summer village, le Monal, frozen in a winterlong siesta, frozen in time - the sort of village that 19th-century artists longed to find and paint in the center of their absurdly romantic canvases. Sublime. And it takes us another hour to ski back to the base of the lifts....
A PERFECT NO-NONSENSE OFF-PISTE ADVENTURE. Followed by a perfect no-nonsense French lunch. Enough beaufort and roblochon cheese, enough country bread, enough red wine to get us back on our feet, back onto our skis, back up the mountain and into the last long runs of afternoon. Shadows lengthening westward. Our turns lengthening too, as a perfect morning lengthens into a perfect day, and the mileage counters in our legs start whispering too us that we're getting close to a record number of round and righteous turns. Time for one last twilight exploration of the long forest lines of l'Arpettaz and les Combes. Sainte Foy, j'y crois! We head home, believers.

Home is only our hotel room back down the hill in tiny Sainte Foy village, but just 15 meters from our balcony, the stone steeple of the village church is silhouetted against the deepening purple of the western sky. The evening bells make us shiver.... Of course there will be a perfect dinner too, in a lost chalet restaurant, in a tiny hamlet up above Sainte Foy.... And afterward, we'll walk out into the insanely romantic French Alps night: the glacier-cold sky alive with stars, the steep valley sides dense with shadow, our memory's videotape already rewinding. This one we won't erase. We'll replay it often.....our perfect day in the Alps.