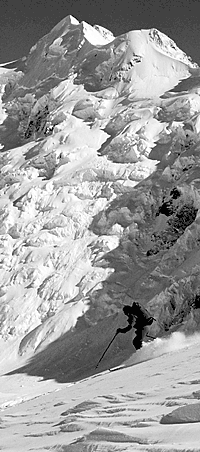 from the Summer 1999 issue
of BreakthroughOnSkis.com
Mount
Cook's
Tasman
Glacier

Summer skiing
down under

Our Cessna banked lazily left, toward Mt. Cook.

A crazy quilt of crevasses, a long river of crushed and crumpled ice swung away beneath our wings and a new wonder loomed up dead ahead. "That's the Hochstetter icefall," prompted our pilot, a cheerful young woman disguised in regulation Indiana Jones leather jacket, headphones, aviator shades and curly brown hair. "it's the biggest icefall in the Alps." She was speaking, of course, about New Zealand's southern Alps – and of all the many mountain ranges around the world that have been named after Europe's "mother range" these glacial beauties of New Zealand's south island are the only ones that do the name justice. . . and then some.

A tilt of the wheel, a little right rudder, and the panoramic chain of summits dipped and swung, reeled back across the horizon in the other direction, white sharks' teeth of ice and snow against a cerulian blue backdrop: summits, arrêtes, glacial tongues and high neve fields, lining up again as our plane hummed its way up the great gash of the Tasman Glacier valley. Miles to go to reach those upper saddles at the head of the Tasman where we'd find smooth snow not broken ice; where our skis, slung from metal racks beneath the Cessna's wings would make sense; where Linde and I were about to expereince one of the best days of high-mountain skiing of our entire lives. . . .

The last crevasses dropped away behind us, the snowy floor of the Tasman saddle grew wider, came closer, closer, and then our plane's skis sunk into the fresh snow, throwing up an enormous rooster tail. We tumbled out into another world: sharp air, excited chatter, groups of skiers and guides (we were some two dozen that morning) getting it together, ringed by an artist's conception of an alpine world, surrounded by miles of empty snowy spaces.

"We haven't been up here in a week," announced bushy-bearded Don McFadzien, the head guide, alluding to the stormy weather that is perhaps the only flaw in the Mt. Cook ski scene, but which had also produced an absolutely pristine, trackless surface. "Let's see if we can turn in this stuff." He could, we could, everyone could. On three pins or downhill boards, with graceful wild swoopers or hesitant stem-christy like bluffs, it didn't seem to matter. I can't remember such forgiving skiing in such a wild, wide-open setting. In groups of varying ability we fanned out and down, into a rolling giant's valley that sloped off in pitch after pitch, plateau after plateau. The end of it all was somewhere downglacier, out of sight and, yes, far out of mind. In the distance, the smooth surface of the Tasman was broken by a few giant crevasses but mostly it was a velvety white desert of fresh snow. We drifted off into this surreal space behind our blue-suited guide, Yahooooooooooooooooooo. . . .

New Zealand is a long way to go for a ski run, even a memorable one, but since New Zealand is indisputably one of the loveliest places on earth (National Geographic recently called it the "last utopia") an enormous number of Americans do get there anyway, and many of them are skiers, and well, why not? Even if your south Pacific soujourn is more focused on island hopping with stopovers in Tahiti or Fiji than on the southern hemisphere's ski season (which runs from June through October), even if your skis and boots are thousands of miles away in the garage back home, if you visit New Zealand during our northern hemisphere summer, then for heaven's sake, don't blow the opportunity . Fly to the tiny Mt. Cook airport at the head of turquoise Lake Pukaki, and sign up for an unforgetable day on the Tasman Glacier with the Mt. Cook Alpine Guides (they rent skis and boots, so you have no excuse).

Is this a ski tour? Not exactly. Is it an adventure? Definitely. Are we talking nordic or alpine? hard-core or easy cruising? Amazingly the Tasman Glacier offers all of the above, more or less simultaneously and at will. A day on the Tasman consists of a twenty minute flight in a ski-equipped plane to a snow saddle at the very head of the glacier, a mammoth 12 km long, 3500 vertical-foot, run down one branch of this glacier; another ski flight to to the top of an altogether different arm of the Tasman, lunch al fresco in a setting that dwarfs Mont Blanc, and one more epic 12 km run down to a lower shelf of the glacier where ski planes pick you up for the flight back to something like civilization. Sound remarkable? It is indeed.
There are maybe half a dozen great, classic glacier ski runs in the world. The Diavolezza in Eastern Switzerland is one, the back side of the Jungraujoch in the Bernese Oberland another, the Vallée Blanche above Chamonix is surely the most famous. But the Tasman Glacier is probably the most surreal, and definitely the most accessible, the easiest to do, and the one you'll remember longest. But it doesn't have to be too easy.

If you're with a strong group, your guide can steer you into some wild terrain. And if you have the mountaineering experience to navigate your own routes through serious and potentially dangerous glacial terrain, you can take one of the Cook Line ski planes up to the Tasman saddle and spend a few days ski touring from a wonderful mountain hut perched on the lip of an enormous rock cliff that divides the two branches of the upper Tasman glacier. Paradise? Close. And if that pales, there are other skiworthy, adventureworthy glaciers nearby. One can fly across the divide in the same stalwart ski-equipped planes to the Fox or the Franz Joseph glaciers, and figure-eight your way down and west, while the sun sinks into the Tasman sea and the snow around you, like the ocean in the distance, turns blood red. There is, once the taste for it grabs you, no end to the glacier skiing adventures you can put together on New Zealand's South Island.