Snowcat skiing photos
above and below:
Irwin Lodge
near Crested Butte
Colorado.
© Linde Waidhofer
Real Powder
for Real People
The Snowcat
Powder Tour Option

A passion for powder. Serendipity of the steep and deep. Floating the light fantastic, lighter and lighter, weightless, breathless, through a morning of suspended flakes. An empty canvas of powder snow, waiting, tempting, begging you for first tracks. For timeless slow-motion turns, one turn after another after another. A cloud of powder rising waist deep, chest deep, over your head.…

No, this is not just a scene from a ski flic. No, this is not just a skier's fantasy. This is the real thing. Real powder. Real skiing. An achievable ultimate that nonetheless eludes most skiers (most of the time). Not because good skiers can't handle the powder—but because the powder itself is lacking (most of the time).

Unless, of course, you start snowcat skiing. Snowcat skiing is a wonderful, slightly subversive idea whose time is here, now.

You know, and I know, that the powder is out there waiting, in abundance. In British Columbia, for instance. And that Mike Wiegle or Canadian Mountain Holidays will fly us to it, for somewhere betwen $4000 and $7000 a week. But I've never had that kind of disposable income, even in such a good cause, and I know I'm not the only skier who doesn't.

While snowcat skiing isn't cheap,it is reasonable. A day of Colorado snowcat skiing costs less than an all-day private lesson at any big Rocky Mountain ski resort. (Prices range from $150 to around $300.) And your powder-cat guides will find you more interesting snow than your private-lesson instructor ever could - it's their job.

In addition, snowcat guides are typically great deep snow gurus and de-facto instructors. They have to be, because people aoccasionally show up for these tours without having mastered the medium. And then it's too late to go back to the lodge. In fact, all the snowcat powder guides I know are sophisticated, patient, extremely snow savvy and - in a sort of informal but pragmatic way - far better deep-snow instructors than most PSIA-trained pros.
Here in Colorado the snowcat operations add up to the equivalent of three or four additional major ski areas in the state's already rich resort offering. And they are right at the top of the list. All are either near or right next to major Colorado resorts. But not surprisingly, a day's skiing with any one of these outfits has a totally different flavor than skiing at the next-door resort.

Snowcat skiing is almost a seperate sport, another path to enlightenment, a home-grown powder purist's alternative. I've been a snowcat skiing fan for years. Snowcat skiing is for real, real powder for real people. And somehow, the fact that it's affordable, makes it more real, and more fun.

In general, you'll wind up skiing some 10,000 to 12,000 feet of virgin vertical on a snow-cat day. Not bad. Although the real point of this game is not to wear yourself out in search of record vertical drops but to enjoy, to savor, a different kind of skiing altogether. The conversations in the cat on the way back up. The hundred-mile views from ridge tops out of sight of any lifts. And the tracks. Powder skiing is so aesthetic that it's hard to keep score.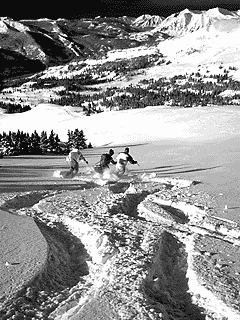 My current favorite snowcat experience is with Bob Rule's San Juan Snow Cats, playing in the high country behind Purgatory resort in southwest Colorado. This is powder terrain for dyed-in-the wool experts: steep wooded glades and chutes, mega adventue on every run - at only $150 a day. But perhaps the best snow conditions in my home state are found near Steamboat Springs where Steamboat Powder Cats have an immense Forest Service Permit area - 100,000 acres. All white. all skiable. And not just for heroes either.

In fact, no matter what level skier you are. If you just remember to rent a pair of fat powder skis the night before your snowcat trip, you'll to have the time of your life - I promise
© Lito Tejada-Flores

For more information,ou can vist
the San Juan Snow Cats website
or you can call
Steamboat Powder Cats at 800 288 0543

In the future I plan to publish an uddated and up-to-date directory of snowcat powder tours across the West, on this web site. If you have any suggestions or favorites, let me know.