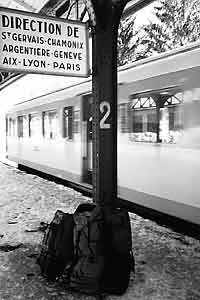 Village train station
in the western Swiss Alps
all photos © Linde Waidhofer
The Alps
first & last
ski frontier
For skiers, the Alps are both the old world and the new. Downhill skiing was born in the Alps. Then generations of European instructors carried the news, and the moves, around the world, to North America, to Japan, to the southern hemisphere too. But that was then, this is now. American skiing is pretty polished, pretty sophisticated, a mature sport. So why go back to the Alps? I do, as often as possible. And I want to explain why a skiing in the Alps can be such a big deal, such a fresh experience for American skiers.
Euroskiing is big skiing. Big mountains. Big runs. Big emotions. It has to do with the size and scope of these mountains, the Alps, with vertical drop, and the vertical rise of futuristic lift complexes. I guess I should say that these mountains - stretching from France through Switzerland, and Italy, Bavaria and Austria, all the way to Slovenia - aren't really any higher than American ranges. But their valleys are much lower, hence the grand feeling of size and scale. And tree line is lower too in the Alps, seldom above 3,000 feet. So in winter the Alps are more white, than green. The proverbial treeless back-bowl experience is the norm here, and narrow ski trails cut through woods are definitely the exception.
This immense playground is a paradise for adventurous skiers. There is too much open snow to possibly groom it all. Groomed runs in the Alps tend to be wide and well packed ribbons snaking down a much wider mountainside, blanketed with wild snow. The lure of untracked snow is ever present, overpowering. That's why I love skiing in the Alps. For the price of a lift ticket, you can enjoy runs that you would need a helicopter to reach in North America. It's that's big.
Yet aside from a handful famous resorts (Zermatt, Val d'Isère, St. Moritz, St. Anton) American skiers know very little about the Alps. Visitors to this Breakthrough On Skis web site, have enjoyed a number of Euroski travel stories,visits to celebrated resorts and completely unknown ones. This month, I'll try to give you an overview of skiing in the Alps, of why it's so sensational. But first, a caveat. Any generalization about the ski experience across a whole continent will have as many exceptions as holes in a wedge of Gruyère cheese. Every American ski area isn't an Aspen; nor every Swiss resort a Verbier.
There's also a downside to the Alps. Let's cover that first. European skiing is like that old nursery rhyme: When it's good it's very very good, and when it's bad it's horrid. Weather is the bugaboo of European skiing because so much ski terrain is above timberline - a recipe for whiteout conditions when the clouds roll in. If you're unlucky with the weather, you may spend a week wedging around in pea soup fog, squinting to spot day-glow piste markers, and hoping you're not heading for a crevasse - or drinking red wine in cafes waiting for the clouds to lift. No fun. American resorts, where the majority of runs are tree-lined, are virtually storm proof. Alpine resorts aren't. For this reason, I advise friends never to go to the Alps for just one week of skiing. Two weeks is a safe minimum which almost always guarantees you enough good weather to make the trip a success. But there's much more to talk about on the plus side.
Let's talk snow. There's a myth going round, that Utah and the Rockies are the only places in the world with dependable deep powder snow. "Too bad you didn't get any powder this season," a friend commented, when I returned to Colorado after two months in the Alps. Wrong. I logged more powder skiing in half a season in Europe than I had in the last five seasons in Colorado. Why? Simply because the accessible ski terrain in the Alps is so vast that fresh snow just doesn't get "skied out" by 11:00 AM, the way it does in the States. When was the last time you skied untracked deep snow at sunset?
Let's talk vertical. I don't mean to imply that the quality of a skiing experience, any skiing experience can be measured by mere statistics. I'd rather ski a short run on beautiful snow, in beautiful light, than a giant run in lousy snow and limited visibility. Vertical isn't everything. But it adds an impressive dimension to skiing. How about 6,000 and 7,000 vertical-foot runs? No, not ski mountaineering descents, but real, marked runs from lift-served summits - they abound, especially in the Western Alps.
Let's talk lifts. One of the strongest criticisms anyone can direct at the European ski scene is the scandalously bad behavior of European skiers in lift lines. It's enough to sour one's faith in human nature. And there are no good guys - Swiss, Austrian, German, Italian, French, all are equally pushy and rude. The French however seem to have found an answer. Instead of reforming the individual, they've reformed the environment, and simply eliminated lift lines! They've done it through a combination of new high-tech, high-capacity lifts: triples and quad chairs, 6-person, 10-person and 20-person gondolas and futuristic trams; plus the liberal use of platter pulls to link out-of-the-way zones on the mountain, and to eliminate bottlenecks by giving skiers more options. Drag lifts are anything but archaic; they're fast, cheap to install, and absolutely the best solution for high ridgelines exposed to wind. I skied from Courchevel across the Savoie to Val d'Isère, during the February high season, with an instructor friend. We could have taken the ski school cut line at any lift, but in a week of skiing we never needed to, not once.
Finally, let's talk adventure - the heart of the matter. I would say that if you're just looking for more of the same, the sort of skiing you're used to, that you've done forever, then going to the Alps is probably a mistake. But if you want adventure, lots of adventure, on skis, you can find more of it, more easily in the Alps than in the U.S.

Of course, it helps to be a strong skier to mine that vein of adventure. Because once you start skiing off piste, where the real adventure is, you're as likely to find wind waves, or sun crust, as soft powder. Typically you'll encounter all three, in every big descent. But wider all-mountain shaped skis, and fat powder skis, have lowered the price of admission by making challenging snow a good deal less challenging.

Skiing in search of adventure also means taking a lot of responsibility for your own safety. In the Alps no ski patroller will keep you from skiing where you shouldn't. Europeans are perhaps more used to taking care of themselves in the mountains than Americans. The lift maps at Verbier, for example, recommend that all skiers purchase avalanche beacons and wear them. Not because the resort doesn't control dangerous slopes, it does. But because there's always the back side, that last couloir, way over there.…

If you're the sort of skier who's always dreamed of skiing the other side of every mountain you've been on, if you're tired of only getting in two runs before the local powder preserve is totally tracked out, if your vision of skiing is more about adventure than recreation, you owe yourself a trip to the Alps. It won't be your last.