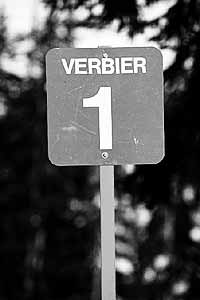 Verbier
My first love in the Alps
Verbier, of course, is the mega-resort of southwestern Switzerland, sprawled across high peaks above the Rhone river valley in the French-speaking half of the Canton of Valais. For me, it's a lot more. The first giant mountain I ever skied. Where I first fell in love with the Alps in winter. Where I first realized that life without space and powder and peaks marching off to the horizon was no longer an option. Where I jumped into my first scary couloir and survived.
That was more than thirty years ago. I've returned to Verbier again and again. I've never been disappoointed. Each new visit has confirmed my first impressions: This is it, Mecca. If you have to choose one resort in the Alps, why not choose Verbier?
Verbier itself is a handsome resort village - a tiny Alpine farm village that survived its post-war growing pains with remarkable grace and turned into a large modern resort without losing its small-town charm - but it's also a ski region which actually ties together at least 9 other villages in a complex sometimes know as les Quatre Vallées or the Four Valleys.
If Courchevel is the Vail of Europe, then surely Verbier is its Squaw Valley - with the proviso that Verbier has more than ten times Squaw's skiable terrain. The similarity lies in the steepness, the ruggedness of the terrain, and the number of wild and crazy young skiers who hang out here. Fur coats are not in fashion, but well tuned skis and avalanche beepers definitely are.
Verbier is not only big (gigantic might be more accurate with ck\lose to one hundred lifts spread across its four valleys), and challenging (the bump run beneath the Mont Fort cable car makes Telluride's Plunge look trivial), it's also an area designed for skiers who want to do a lot of skiing. Lifts run from 8:30 (although you can often start up at 8:00) till 5:15 in the evening. And by the way, your ski pass gets you free bus transportaiton back to town from the end of several long off-piste excursions, and works as a rail ticket when you want to visit nearby sister areas. Verbier is a skiers' ski area.
"Skiing the back side" has a certain ring to it, a flavor, a mystique. When a ski area is as big as Verbier, you can bet the "back side" of any given peak is going to be bigger than life. And when the peak in question is 3328 m. Mont Fort, Verbier's highest summit, the excursion starts to feel like a mini expedition. The skiing is awesome, in the original and literal sense of the term. I was awed when I skied it, years later I still am.

The top lift station of the Mont Fort tram is probably the wildest crow's-nest view-platform in all the Alps: to your right, the big daddy, Mont Blanc surrounded by all the chaos of the Chamonix aiguilles; to your left, the Matterhorn; over your left shoulder, the peaks of the Bernese Oberland; and in between, twice as many lesser known monsters that look just as fierce. Altogether over 50 summits above 4,000 meters (the magic number in the Alps) spread out before us. This is the real roof of Europe, right here and nowhere else--X marks the spot! And while we stand, hypnotized, slack jawed, pointing, naming the summits like pilgrims nearing Mecca, my energetic Aussie buddy, John Falkiner, has already dashed down the floating steel staircase to the knife-edged ridge below, peered over the edge, tested the snow, thought it over, and returned, announcing: "Yes, I think it's all right, the snow seems stable, we can do it. Let's just wait till this wave of skiers has left the top, and we can slide over the edge without tempting anyone to follow us. . . . "

The temptation is not so obvious. My own concern is less the snow than the steepness. Man, this moutain is steep! We traverse around the corner, only the edges of our skis touching the slope, P-tex in the air, to the top of a series of gullies and couloirs leading down between rock fins to a vast white plateau, le Grand Desert, 2,000 feet lower. One of those spots where the first turn takes an extra effort, where a fall is out of the question. But where the skiing, once launched, is superb.

John points out an impressive mega-cornice over our heads: "I jumped off that once, for a Mark Shapiro photograph," he allows, "never again!" I can't believe my eyes; I've seen that picture and it doesn't look half as wild as it really is. But then, everything here has a larger-than-life feeling. It looks like a long, long way down to the Grand Desert , but John assures us that's only the start of a great run. He's right, of course. The understatement of the day.
The snow is infinitely variable, crust to powder and back. John and his friend, Ace Kvale, synchronize a leap-and-land extravaganza through certified death snow; Ace's girlfriend, Niki, is so light she stays on top and makes you wonder what's the big deal. Linde and I follow these masters of the steep, open-mouthed. At the Grand Desert, we turn left and descend an immense lonesome valley, powder on the side, corn and crust in the center, kilometers of it, not a soul in sight. Eventually there's a frozen lake, le lac de Clueson, which stretches still more kilometers around a corner and out of sight. And then the first trees: down and down and down, and finally in the distance, lifts, skiers, civilization as we know it, but our run still isn't over — far from it.

We drop into the valley of Super Nendaz, one of Verbier's neighbor resorts, and escape up side lifts to the Plan-du-Fou, where god's own endless toboggan ride starts all over again. Down past Prarion, a deserted summer village. Down a snowy road into a side canyon, where a frozen waterfall forms masks of ice. Down through fruit orchards almost to the Rhone valley. All good skiing, and it takes us just about all day. We run out of vertical at a tiny hamlet called Auddes, on a winding country road in the middle of nowhere. No lifts, no skiers, but there's a great cafe where we order a belated lunch, toast our adventure, and wait for the bus that passes every hour.

Just another Verbier day — one more perfect day in a long, full season. Actually my wife. Linde, and I skied this run down the backside of Mont Fort with our friends Ace and John, quite a few seasons back. It has proved just as unforgettable as I thought it would be at the time. Verbier memories are like that, they just don't fade And you can referesh them any winter with a plane ticket to Geneva.