A few months ago, I published an article on this web site about skiing far from home - skiing in the Alps - about how big and grand these legendary mountain ranges really are. (See Is Bigger Better? in the back-issues index for February 2001) In it I described receiving a postcard from my friend, ski writer extraordinare, Peter Shelton. A postcard fairly overflowing with delight and surprise, in which our friend said, in effect: Now I get it, this is what you meant about big mountains!…

Well, after some creative rumaging through old ski drawers, I found that postcard from the Alps. And here it is (above). And I found a lot more too: concrete tokens of skiing memories: lift tickets, trail maps, pins, old posters I'd collected, and still more postcards from exotic mountains and ski resorts around the world. What a treat. What memories. And how glad I was not to have thrown them all away as soon as I got home from each far-flung ski safari.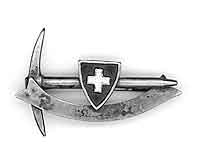 Now, as another ski season merges into that timeless virtual ski season of memory, I thought it would be fun to create an off-season gallery of ski memorablila. Momentos. Souvenirs. Memoires in tangible form. Keepsakes from a ski traveler's attic. Souvenirs de voyage.
Above: an old-fashioned Swiss mountain pin that I bought in Leysin, Switzerland where I first learned to ski and began to teach; next, a classic stone lithographed poster form l'Alpe dHuez

Below: a ski-sweater pin from Les 2 Alpes; and another early French ski poster from Megève, underneath Mont Blanc. I find the romantic Images and strong graphics of these early ski posters absolutely captivatiing. I hope to share more Images from my collection of ski-poster art in the future. Let me know what you think?