Aspen, a well kept secret in Colorado skiing? I can hear your reaction: Lito, surely you jest?… Not at all, even though Aspen - the town, the place, the mountain, the mystique - is one of the best known names in American skiing. But in a strange way, Aspen has become the victim of its own success. When was the last time you heard, or read, a serious discussion of Aspen skiing? Not Aspen glitz. Not Aspen shopping or Aspen restaurants. Not the extravagant and often excessive lifestyles of the super-affluent who have made the Aspen area their home away from home. But Aspen skiing? The heart and soul of the Aspen winter experience.

I almost said: just plain Aspen skiing. But actually, Aspen skiing is anything but plain. For the last seven years, I've been lucky enough to spend 6 weeks to 2 months each winter in Aspen, and since I get to ski all over Colorado and the West, I'm in a good position to evaluate the ski offerings of most major resorts. I've concluded that Aspen skiing is widely underestimated and under-appreciated. Why? Maybe we can blame this state of affairs on a kind of journalistic laziness. If you are a writer assigned a travel or feature piece on Aspen, isn't it easier to concentrate on thousand-dollar-a-night hotel suites and second homes that are as big or bigger than hotels than actually get out and ski all four of Aspen's mountains? To do that right would take over a week, and what busy writer has that much time to devote to skiing? Even ski writers are prey to a certain laziness. How about those annual lists of America's favorite resorts that appear in all the ski magazines? I've participated in numerous surveys of Skiing Magazine's contributing editors designed to rank our major ski resorts. Curiously each of Aspen's four mountains are always treated as separate resorts in these surveys, so you have some votes and stats for Aspen Highlands on this page, and some more for Aspen Mountain on another page, and Snowmass information in some other section, and Buttermilk, that incredible learning/teaching mountain is usually forgotten altogether. But these Aspen ski zones aren't really separate ski resorts at all, but integral parts of a greater Aspen ski experience that is vastly more than the sum of its parts.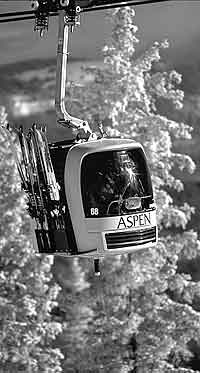 Aspen skiing (and I certainly include boarding in that mix) is a wonderful, rich, and integrated package - four mountains, almost right next to each other, with four different flavors of skiing, one shared lift ticket, and a great public bus system to whisk you from one mountain to another, no matter where you're staying. Taken all together, which I maintain is the only way to take them, Aspen's four mountains add up to the biggest, best, most varied ski complex in Colorado - something closely akin to a European ski region, an integrated multi-mountain complex. And there's more.
Aspen's mountains aren't just varied, big and interesting (and it goes without saying that Aspen's lifts, grooming and snowmaking are state of the art) but Aspen's ski slopes are curiously empty. No question, these are the least crowded ski slopes of any major resort in Colorado. On any given day, on any given Aspen mountain, you feel as though you are skiing at your own exclusive country club. Where are all the skiers? Where are the crowds? One example: I've been organizing and teaching intensive ski weeks in Aspen for seven years, and although all the lift mazes have the traditional ski school entrances, I have never once needed to ski my students through these special lines. Seems as though there are never more than a handful of other skiers ahead of us - if that. Now I don't mind sharing my favorite runs - that's what a ski instructor or a ski writer does after all. But I don't enjoy skiing in crowds. And at Colorado's major close-to-Denver areas, coping with the challenge of too many other skiers is often as vital a part of your ski day as coping with the challenge of the mountain. Not at Aspen. Slopes this good, and this uncrowded are a kind of ultimate luxury. And after all Aspen is a luxury ski resort.
But to my mind, a luxury ski resort in the best sense - or at least in the sense I care about - the experience on the hill. I have spent years trying to figure out why Aspen slopes are the least crowded slopes in Colorado. Yes, there are a lot of resorts in a two-hour driving radius from Denver, and it takes four hours to drive from Denver to Aspen. But I come back to the strange bias of journalists and reporters, and their editors, who seem hypnotized by the easy-to-write-about lifestyles of the rich and famous, rather than harder to cover romance of powder and pack, winter and weather, skiing, and more skiing, and still more skiing - which to me is what Aspen and its four mountains are all about.
Do you think Aspen is too expensive for average skier? For real skiers, for skiers like you? Most magazine stories imply that it is. Believe me, it isn't. Most of my friends here are ski instructors, photographers and artists. None of them are rich. All of them have learned to live well, and ski well, without spending a lot. It's a very different story than the one the media have been telling about Aspen for decades. For me it's the real story. And while it's true that an Aspen lift ticket isn't cheap - almost no lift tickets are nowadays - it's also true that you get more skiing for your dollar here than almost anywhere, more time on the slopes that is, not in line, and more space on those slopes, to really soar.
Like I said, Aspen skiing may be the best kept secret in Colorado.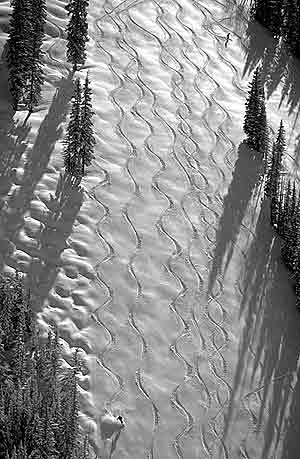 Above , Bell Mountain after a storm. Where are the crowds?
Above and left, the Aspen Mountain hi-speed gondola
All Aspen photos
© Burnham Arndt