Tradition is alive and well at Nozawa Onsen Take away the ski lifts, strip away most of the modern amenities, and a mountain country like Japan would still have mountain resorts, has always had mountain resorts. They would be resorts like Nozawa Onsen in Nagano prefecture - hot spring resorts. (Onsen means hot springs.) As in Europe, those who could always traveled to "take the baths." We came to Nozawa to ski, and discovered something suspiciously like old Japan (at the very least, timeless Japan).

Checking in to our ryokan, or traditional-style country inn, was like checking out of the 20th century. The reception went beyond graciousness into a stylized ritual of welcome that made us wonder about the propriety of our every word, every gesture. Kneeling on the tatami mats of our room, a wood and paper fantasy out of a museum catalog we accepted tea, and beautiful dark winter house robes or tanzen, and wondered how we would ever find our way out of this Kurasawa film and back into the streets, onto the slopes.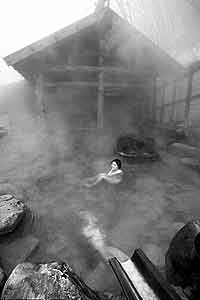 The streets of Nozawa Onsen are steep, narrow and winding, and full of hot baths, 14 public hot baths in an eclectic collection of lovely old buildings. Summer and winter visitors alike sometimes go from bath house to bath house, the way Westerners go on a "pub crawl." Sampling the different water temperatures, the different atmospheres, as so many different aspects of the resort's offering. Enclosed bath houses are the norm at Japanese onsen resorts, with separate facilities for men and women, although by far the most beautiful hot-spring baths are outdoor pools in ravines and on mountainsides. These outdoor hot springs, or rotenburo, aren't used as much in winter as in summer because of an old folk belief that the combination of hot water and cold air can produce heart attacks. (A good thing the Scandinavians never knew this; a good thing we didn't believe it.)
Nozawa was simply romantic. Everywhere, wraiths of hot-spring steam rose through Nozawa's streets. In an open-air hot-springs basin near the first chairlift out of town, older women cooked armloads of greens to make nozawa-na, a kind of pickle delicacy. Small bright gift stores sold boxes of onsen manju, a typical "hot-springs sweet." In cafes, students would order slices of toast an inch and a half thick, and sit for hours reading manga comic books as thick as their toast. The steep streets were clogged with skiers. And above town, of course, so were the not-so-steep slopes.
Nozawa is actually a rather smallish ski area draped delicately over a big broad-shouldered mountain, a mountain mostly covered with uncut forests. But not unbeautiful - one evening just at sundown we skied into a forest of ice-decorated trees, thousands of beads of melt water had refrozen as beads of crystal, gone by the next morning. And the skiers alone were worth the price of admission: a ski club two hundred strong, all wearing the same purple and mauve outfits; and smaller groups of friends everywhere, practicing what we quickly dubbed "team dressing" with everyone in the group wearing an identical, flashy, sometimes custom-made, outfit!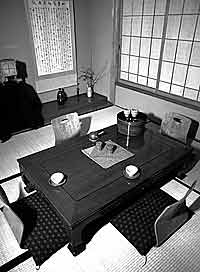 At noon when the warm weather transformed February snow into piles of salt, we would halt in strange little multi-storied "Hütte," Tyrolean theme-park cafeterias stacked side by side along wide beginner slopes. Through panoramic windows we watched hired video-cameramen on skis making super home movies of affluent skiers, directing their clients down the slope with two-way radio headsets.…

In the evening we followed the crowds down long catwalks back to our rendezvous with old Japan the Naraya, our ryokan-style inn. The evening meal there seemed like a dream. We were served "Kaiseki cuisine," an extravagant approach to eating that revolved around serving as many different tiny dishes as possible, each in its own different china. One night I counted 15 of these exquisite mini-courses. The mind boggled. The palate hypersensitized. Jaded western travelers surprised by every bite.

Kneeling before black lacquered tabletops in one of the ryokan's lovely private dining rooms, it seemed to me that we had come a long way from the notion of Japan as the Switzerland of northern Asia; this was Japan as pure tradition, miraculously still coexisting with the exploding vision of 21st century, high-tech Japan that was waiting for us back in Tokyo. This trip to another cultural time and space left us almost speechless, capable only of a heartfelt: Oishi des! Delicious! and, Gochi sô sama! Thank you so much!