It was remarkable, I knew, to find myself here in the southern hemisphere, still right-side up, not falling off the bottom of the planet - childhood fantasies linger long in our so-called adult brains - but that was merely the beginning of a remarkable collection of remarkables:

This ski area, for example, a kind of Shangri-la tucked behind an upside-down white sawblade of peaks, rising like an artists backdrop, behind the glassy reflections of lake Wakitipi. Mountains that strain the last reds and pinks out of the sky nightly, dripping color down long volcanic slopes into the lake, snow on fire, the saturated clouds deepening to blood red, as the steamer sails off from the Queenstown dock into the liquid New Zealand night.... These mountains that the early settlers called, uniquely, appropriately, inevitably, "the Remarkables." And hiding, just over their sharp and shattered crests, a no longer lost valley which is also one of New Zealand's prime ski resorts, named uniquely, appropriately, inevitably, the "Remarkables."

Remarkable memories mixing now, a hemisphere away (in the Fujichrome mind's-eye emulsion of suddenly last summer) into a collage of powder and cliffs, turquoise lakes and mountain roads twisting snakelike in a land without snakes, softspoken heroes in day-glo suits, high on the air beneath their skis, a postmodern ski resort with helicopters and quads, peaks to the horizon, couloirs à gogo, and late afternoon clouds rolling in over the divide from the Tasman sea like an enchanter's spell...remarkable!

New Zealand is remarkable enough in the first place. This Switzerland of the south Pacific, this lost mini continent with its tough-minded, warm-hearted people, improvising a tenuous transition from agricultural to post-industrial society (trying for an end run around the grimy years of steel mills and strikes) in a setting so outrageous that painters wish they were photographers, and photographers go bananas. Kelly green paddocks lined with golden gorse hedgerows, and the diamond sparkle of icefalls larger than any in the Alps, rhodedendron trees the size of houses, exploding with flowers...remarkable!
photo above:
Scot Schmidt leaves the snow high above the Remarkables lifts and runs
photo below,: Scot gets vertical
both photos
© Linde Waidhofer
And skiers like Scot Schmidt and Rob Huntoon...well, I didn't need a New Zealand setting to realize how remarkable they already were. Ski films and the Pages of Powder had long since made that point. But the whole experience being, as usual, greater than the sum of its parts, we were knocked out when we met these two skiers in Queenstown. The remarkables ski the Remarkables!
I'm not talking about daredevil feats and exploits with a capital "E" either. Rob and Scot didn't treat us to any "guts and glory" jamboree. Instead,these two lads played with the vertical interfaces of snow, rock and air the way malamut puppies play in snowdrifts.... "Getting vertical" was their euphemism for a remarkable skier's game: barrel headlong into a steep wall - the underside of a cornice or a vertical drift - shoot straight up it till you're about to stall and fall, flip an airborne 180 off a hasty pole plant and head back down toward terra-almost-firma.
A French "squirrel" helicopter beams these two remarkable skiers up to the top of a series of craggy overlooks, high above the ski area. On-sight, non-stop, re-entries bring them back through snow-sloughing couloirs, over twenty-foot rock walls....
Scot plans another jump: eyes lock in, time slows down, you can almost hear the computer whirring inside his head, running through alternate scenarios. Descision point: all systems go. Scot leaves the earth as we know it. An imaginary dotted line carries him through space to a 3 meter patch of snow on the cliff below where he hits and jumps again, clearing the next cliff band to land on a steep icy wall I wouldn't even think of skiing. Remarkable!
Robbie grins his way into a no-exit couloir and exits anyway, in fine style, taking all the snow with him. Power skiing redefined. Are these turns merely linked recoveries, or did he plan it that way? or both? Tomorrow's headlines: "Stunt man in yellow suit goes into orbit over lake Wakitipi!" Tomorrow never comes and Rob lives to ski again. Remarkable!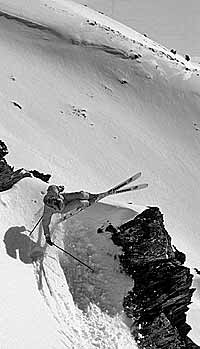 Downtown Queenstown is no less remarkable. How can 10,000 skiers squeeze into Albert's every Monday for the Ski Wizz videos of last week's craziness? They do. How can New Zealanders make such great Cabernet Sauvignon and the rest of the world not even know about it? They do and we don't. How can a little lakeside town combine the best of Bariloche, Tahoe City and Annecy? It does. Sitting by the fireplace in Roaring Meg's restaurant I tuck into a mysterious Mutton Bird that tastes like fish, and listen to Scot and Rob talk about tomorrow's lines....
Our two friends look, well, just like totally normal human beings Remarkably, they come on very softspoken and modest for a pair of skiers from another planet, skiing upside-down here on the bottom of the earth. The Steinlager flows like water and conversation shifts to radical windsurfing on Maui - yet another world. Outside, across lake Wakitipi, the last sunset colors are fading from the Remarkables.
Never mind, some Images are etched safe in memory, for keeps.
I met Scot and Rob in the Remarkables over a decade ago. It seems like yesterday. A perfect summer skiing memory. And the Remarkables are still just as remarkable today.