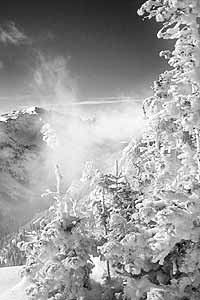 adventure skiing—
at Snowmass?
The wind is picking up. Small tongues of spindrift curling around our boots, our skis, as we hike up and around, up and around, contouring this deceptively gentle slope above the High Alpine Lift into the top of Hanging Valley. The light is flat now. High, fast clouds scrubbing the blue out of the wide Snowmass sky. Step by step, the feeling of space, potential space, beneath our skis grows: the snow sloping away, steepening toward an uncertain edge, a drop off or maybe a succession of drop offs as this simple skier's trail takes us out over the start of something that already feels like an adventure—that doesn't feel at all like the Snowmass of travel brochures and family vacations, the ski-in, ski-out world of slopeside condos, microgroomed flats and sublime cruiser-friendly slopes. An adventure at Snowmass?
Adventure and skiing. Skiing and adventure. Synonyms? Hardly. Do they go together? Perfectly. Like true love, adventure is hard to describe if you haven't experienced it. But almost everyone's had an adventure at some time or other. If only briefly, if only by accident. My working definition: an adventure is an experience that combines excitement, challenge and uncertainty, in a setting that is unfamiliar, unusual or mysterious. Like all definitions, this one is a bit dry; it lacks the intense emotion of an actual lived adventure. But I'll bet you know what I mean.
Skiing is a natural path to adventure. In fact, the ever-present possibility of adventure is one of the most remarkable things about skiing. A very good reason for loving the sport rather than merely liking it. After all, no one can have an adventure on a tennis court.… Certainly the first-time beginner on skis, honestly scared on top of a five-foot knoll, but nonetheless ready to push off in search of new emotions, is about to experience something like an adventure. Certainly too, early-day skiers hiking up the steep spring snow of Tuckerman's ravine in New England, were doing so more in search of adventure than simple exercise. But how about Aspen skiers? How much adventure is left up here at the head of the Roaring Fork, after the snow-making crews, the grooming crews, the on-slope gourmet purveyors and hipper-than-thou ski boutiques have done their thing?…
It's true. Today, after one has learned how to ski, there is a sort of fork in the path. You can just — well, you know — just ski around, just 'recreate,' with a pair of expensive high-tech skis on your feet, sliding smoothly and elegantly from one run to the next, logging pleasurable but predictable miles, carving hundreds of perfect, but perfectly safe turns. And one quickly discovers that skiing, even exquisite skiing, is not necessarily an adventure. Or, from time to time, you can give in to that tiny whisper of temptation and desire that seems to be telling you: 'today, this day, this run, this turn, could be like no other....' You can still go off looking for adventure — as we are doing today in this most remote corner of a mostly tamed resort — and find it.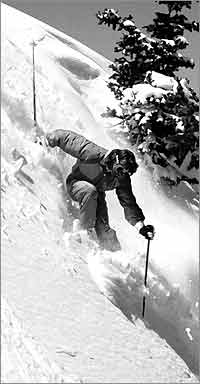 Find it in the Cirque, dropping into chutes like AMF ("Adios etc.etc.") where the rock walls whisper: Make every turn or else. Or further east, and further out, further along the Snowmass skyline in this mysterious, half-known, half-skied, half-wild adventure preserve known as Hanging Valley. The name always gets me. It's not a valley at all, only a big bite out of a gentler mountainside, at most a shelf suspended above the valley; not hanging from anything, but hanging over the steepest, freest, widest face of snow in all Snowmass, the Wall. But hey, I haven't seen any naked ladies skiing under the Naked Lady lift at Snowmass either.
Drop into the upper slopes of Hanging Valley where mood and judgment tell you you can, or you should. Challenge here is not just steepness, not just rocks and obstacles, but the delicious insecurity of snow that's seldom pure powder, seldom real pack but a halfway house of horrendous hidden lumps and drifts, cut-up, half-packed half-soft crud. And all this at an angle steep enough to wake us up. Poles tapping their braille dance, legs pumping, skis floating then catching then shooting free again, playing tricks like naughty kids, crossing, then bouncing free. There are no lazy skiers in Hanging Valley, at least not upright.
Years ago, Hanging Valley used to the exclusive playground of the Snowmass Ski Patrol; nowadays it's opened, avalanche controlled, marked on the trail map, but it's still exclusive. It feels even wilder than it is, which is plenty. Before Highland Bowl opened at Aspen Highlands, this used to be the best steep ungroomed in-bounds "adventure terrain' at any of Aspen's four mountains. It's still the most exciting skiing at Snowmass. And skiing Hanging Valley is not just hard, deliciously so, it's serious. It engages the whole skier. There are rocks and cliffs here; lose your focus and make the wrong turn, the wrong decision, and you can and probably will get hurt. Hanging Valley skiing asks for equal parts of judgment and technique. Good judgment. Good technique. It asks you if you're ready and doesn't take maybe for an answer. Finally, skiing like this is not merely hard and serious, but a tonic for the spirit.
An all-consuming quest for security has pretty much eliminated the possibility of adventure from the mostly urban environments in which we live. Today there's even a tendency to eliminate that possibility at ski areas. Life is pretty secure for most of us, most of the time — and I'm not complaining. But life without adventure — that is to say, without any risk — loses much of its spice. We need 'free zones,' uncontrolled environments, where we can take risks, where we can encounter the un-mediated, unforeseen consequences of our actions, live with them and savor them. Mountains at their very best are such a free zone. Winter, snow, steepness, a pair of skis, imagination, trepidation, resolve, excitement, performance — this seems like the perfect recipe for adventure
You'll know if it's a real adventure, or just one more good afternoon on the slopes. The risk/reward ratio will tell you. Adventure is all about taking risks, the right risks for the right reasons. This is what distinguishes adventure from simple nuttiness, carelessness, insouciance or folly. Putting others at risk by irrationally fast skiing, for example, is not the sort of risk I mean. That's the antithesis of adventure. An adventure, on skis or off, always calls your whole being into play. Judgment, nerve, experience and practice allow you to chose the right risks for the right reasons. And the right risks produce the greatest rewards.
Ducking under the ropes and blindly skiing into an avalanche start zone is not the sort of risk-taking that leads to real adventure either. Playing 'chicken' with nature is just dumb. Sure, there are more opportunities for ski adventures beyond area boundaries than inside them, but skiers still have to pay a lot of dues before they're ready for such adventures. Patiently building strength, polishing technique, learning about snow—there just aren't many shortcuts for skiers in search of adventure
The most adventurous skier I've ever had the privilege to ski with, Scott Schmidt, is also one of the most concentrated and thoughtful skiers I can think of. Scott survives his radical ski descents not because he has more skill than most skiers (which he definitely does) but because he has more judgment and experience. Adventure isn't easy; if it were, it wouldn't be adventure. Any adventure, it seems to me, on skis or off, takes you right up to your limits, and sometimes beyond. Adventure and comfort are mutually exclusive.
In flat light we negotiate the first drop of this two-step descent, threading play-it-safe turns around lumpy mounds of snow that are dreaming of growing up into full sized moguls They almost never do — grow up that is. And they won't either unless the Aspen Skiing Company decides to improve lift access to Hanging Valley and the Wall. I hope they don't. The 10-minute hike in, and the obligatory two-lift return trip keep skier numbers on the Wall down, the adventure quotient up. The upper slopes funnel us down to a sparsely timbered bench. Today each tree is a friend: casts shadows, promises of 3-D relief and good visibility. We enjoy it while it lasts.
Because the Wall is waiting. The final biggest step on this big face, the Wall proper overhangs the tame ski garden of Elk Camp. Falls away from the timbered edge above in a grand wide sweep. Sustained. Relentless. Thrilling. My friend Edgar Boyles, always tempting me into trouble, makes a desperate line between some early-season rock outcrops look easy, too easy. His long legs fold and unfold. Edgar plays along that fine line between falling and skiing, and never comes down on the wrong side. It's steep enough, you just don't want to let 'em run; hard enough that every now and then you do anyway, without meaning to. Whoa there! (Said/thought with a grin.)
Snowmass is a giant ski mountain and the Hanging Valley Wall is the single most satisfying pitch on this vast mountain. It is literally impossible to ski a boring run down the Wall; and very improbable that I'll ever ski a relaxing run down it. Today I'm popping off the snow, punching though big lopsided pillows of fluff, throwing in thank-god pole- plants and Kabambo edge-sets to keep myself upright, turning with everything I've got. Because this is for real, all there is. Because I'm halfway down and don't want to stop even though my legs are burning. Because down below the soft swales and gullies of Elk Camp are waiting like the safe-haven landing decks of so many snowed-in aircraft carriers. Because up here on this big, tilted Wall, under a deep gray sky visibility is next to nil. Because, yes, you guessed it, I'm having an adventure, one more Hanging Valley adventure — at Snowmass.