books
videos & DVDs
early season 2009 / 2010
Thinking of the Alps this season?
If not, maybe you should. Every skier should visit that mecca that is the Alps. But what flavor? More precisely what country? What resort? I thought I would fuel the daydreaming aspect of this pre-season interregnum of several snowless months before the ski season really starts, with the following one-paragraph sketches of ten of my all-time favorite Euroski destinations (many of which I have described in more detail in Travel articles on this site (see the BackIssues pages). It's never too early to start making plans...
1. Val d'Isère
Val d'Isère — or more accurately, Val d'Isère-Tignes, the giant combined "ski domain" that is often marketed under the label of "l'éspace Killy" or "Killy's space"— has a reputation to match its size. Any frenchman, even a non-skier, will tell you that Val is the most sportif of all French winter resorts, favorite hangout of the hard core. Big mountains, steep slopes and a decidedly avant-garde lift system (including a mono-rail), all guarantee you can ski yourself silly here. Val d'Isère is the "older" half of this twin mega-resort; newer Tignes, next door is both the largest single ski area in France, and, as far as I know, one of only two ski areas in the world that boasts lift-served skiing 365 days a year. As a village Val d'Isère is more sympathique than Tignes, but suffers somewhat from overcrowding, especially during the February school holidays.
2. Les Arcs (France)
Of all the modern, purpose-built French ski resorts that sprouted like mushrooms on the treeless flanks of the Alps after the war, only Les Arcs and Avoriaz, with their wooden architecture can lay claim to real warmth and charm; and les Arcs is, hands down, my favorite. Les Arcs (the name is plural in French) boasts two villages, one higher, one lower; both are handsome but Arc 1600 is perhaps more "animé" or full of life than Arc 2000. Smack in the heart of the Tarentaise range, roughly halfway between la Plagne and Tignes, the "domaine des Arcs" is as vast, high and intriguing as anything in the western Alps. The black piste from the top of the Aiguille Rouge has the biggest vertical drop of any black slope in Europe (2,100 meters, or 6,900 feet). Les Arcs has always been a maverick ski mecca, hotbed of alternative approaches to snow. Today, its slopes are full of monoskiers and "surfers" (as the French call snowboarders). It's a contagious spirit; after a few days at Les Arcs you too will feel like a character from the film "Apocalypse Snow."
3. Chamonix (France)
Chamonix is a legend and, like most legends nowadays, it ain't what it used to be. Chamonix sits at the foot of one of god's own tourist attractions, Mont Blanc, the highest mountain in the Alps—a magnificent sprawling giant of glaciers and granite crags. Can we blame Mont Blanc for a Chamonix's complacency, for the fact that modern development here has followed the line of least resistance? An explosion of condo-like vacation apartments has now overwhelmed this once lovely village, while the ski facilities have remained what they've always been, fragmented and not quite up to snuff, scattered up and down the sides of a long alpine valley. Chamonix is not at all your modern, integrated French mega-area or "domaine skiable." Nonetheless, it probably boasts the single best ski run in the Alps, period. Les Grands Montets, just up-valley from Cham itself, is an awsome endless challenge. Here the legend lives on.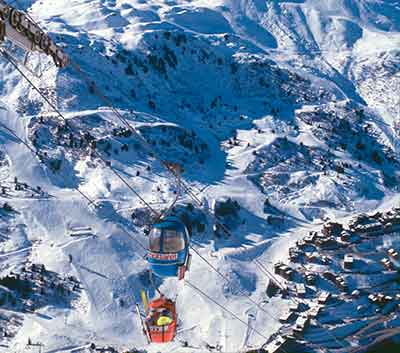 Meribel, Trois Vallées
4. Courchevel & Les Trois Vallées (France)
Confusingly, Les Trois Vallées, the "three valleys," are shared by four stunning ski resorts: Courchevel (which is itself three resorts at three different altitudes, Courchevel 1550, 1650 and 1850), then Meribel, les Menuires and Val Thorens. Val Thorens is the highest, starkest and most sportif "station" of the lot, tucked into a white parenthesis at the head of the Val de Belleville, just beneath the Glacier de Chavière and the Aiguille de Peclet. While Courchevel, three valleys and and a long day's skiing away is the undisputed capitol of the region in terms of resort chic. In fact, socially speaking, Courchevel is the smartest resort in the French Alps, a kind of Gallic Vail. Between these poles, Les Trois Vallees are a skiing paradise: endless open slopes, lifts in every direction, lots of easy skiing and a remarkably high standard of slope grooming if you want it, but also lots of untracked high-mountain skiing if you'd rather. And when you've burned enough calories on the slopes, amazing restaurants everywhere, on the mountain and off.
5. Verbier (western Switzerland)
What's your absolute favorite ski area? I can't think of a tougher question; but if I had to answer, I'd probably pick Verbier. Pourquoi? Size—over 88 lifts when I last counted and still growing (the Verbier ski network is accessed by four other resort villages:Thyon, Veysonnaz, Haute Nendaz and Mayens de Riddes). Views—Verbier is set among the highest peaks of southwestern Switzerland, Mont Blanc to the West, the Matterhorn to the east; white splendor in all directions). Powder snow and off-piste possibilities—very deep and very steep; at Verbier it's always easy to slip across the border between just skiing and adventure skiing. And finally, international flavor and convenience—Verbier is a poly-cultural melting pot of a resort where almost as much English is spoken as French; it's neither a cold modern resort nor a quaint old village but something happily in between; and it's remarkably easy to get there by train from the Geneva airport. Vive Verbier!


6. St. Moritz (eastern Switzerland)
Although no one can argue if I call St. Moritz the Rolex watch of ski resorts—the distilled essence of money and luxury in a snowy setting—that's only part of the story. St. Moritz is also the capitol of a large and diverse ski region in Eastern Switzerland, the upper Engadine valley. Lakes, unspoiled farming villages and separate ski areas are strung up and down the lenght of this high wild valley like so many pearls. The diversity of this Romanch speaking region means that a ski holiday in the Engadine need not be an attempt to keep up with the Onassis. St Moritz itself has three major ski mountains, of which the highest and most interesting is Piz Corvatch. Spectacular but not difficult glacier skiing is found nearby at Diavolezza. And finally the broad flat floor of the Engadine valley is graced with the most attractive network of modern cross-country tracks I've ever seen.
the capital of cozy charm
7. St. Anton (Austria, Vorarlberg)
St. Anton may or may not be the capitol of gemütlichkeit (or cozy charm) in the Alps, but it's definitely in contention. A handsome old village full of skiing history and richly decotrated traditional architecture, St Anton is also a kind of gateway into a vast Vorarlberg ski region. Staying in St Anton, one can easily ski an entire mountain range. Snow condiitons aren't quite as light and dry as in the higher western Alps, but the slopes are vast and the adventure quotient high. Classic runs not to be missed are the off-piste descent of the Paziel Tal from the top of the Valluga above St. Anton; and the celebrated rundfahrt (or all-day circle tour) of the Lech region that begins at the Madloch Joch high above Zürs. Hot tip for lunch: ski down to St. Christoph instead of returning all the way to St Anton. For dinner: wild game at the Post Hotel or an evening in the tiny village of St Jacob just down valley.
8. Sestriere (Italy)
Two unique buildings rather than mountains have become symbols of this classic western Italian ski resort—twin cylindrical towers that are typical and rather beautiful examples of Mussolini-era fascist architecture. Today they are Club Med vacation hotels, but they still dominate the resort which is set dead in the center of a grand white bowl of mountains. One can in, fact, ski in all directions, on every different exposure here. Sestriere is a big ski area but not a giant in European terms. Yet a week in Sestriere can stretch out into a larger international ski adventure if you take the trouble to visit several other resorts, on either side of the nearby French-Italian border—San Scicario and Serre-Chevalier—that together comprise the ("Voie Lactée" or Milky Way) ski region. Sestriere's snow conditions, however, often seem better than its neighbors, and with one of the biggest snowmaking systems in Europe, they start the season earlier than any of their neighbors.
Courmeyeur, Italy
9. Courmeyeur (Italy, Mont Blanc region)
This is the "back side" of Mont Blanc to most Americans, who most often associate this giant alpine peak with France and Chamonix exclusively. But Mont Blanc is also a white milestone marking the French-Italian frontier. From the Italian side, of course, it's known as "Monte Bianco", and the Italian side is in many ways wilder and more unspoiled. Courmeyeur, the small mountain town turned resort, that dominates the upper Aosta valley is definitely unspoiled, or more accurately, well preserved. Narrow pedestrian streets and stone roofs give the village a folktale character. The ski mountain is not on, but off to the side of Mont Blanc itself, with dramatic plunging views of the dark and glaciated Brenva face. Atypically for the western Alps, much of the best skiing is among trees. Extensive snowmaking has protected Courmeyeur through recent snow drought seasons.
10. Madonna di Campiglio (Italy)
Campiglio (as the Italians refer to it, since saying simply "Madonna" would be like swearing) is a sunsplashed resort known for its wide open spaces, long runs and fairly easy skiing. And, I should add, its breathtaking views of the deep red towers and cliffs of the Brenta Dolomites. These stunning peaks are the westernmost outposts of the craggy Dolomite range; and while other Dolomite ski areas consider themselves to be part of the Sud Tirol—a German speaking enclave, although politically Italian—Campiglio is purely Italian in both language and flavor. The flavor is delicious: this is a large but somehow lazy and laid back resort, where the guests are more into relaxation than intense competitive skiing; where the seven competing ski schools are more into cheerful anarchy than stern orthodoxy. Several valleys are linked into one big ski region that connects with the neighboring resorts of Marileva and Folgarida.