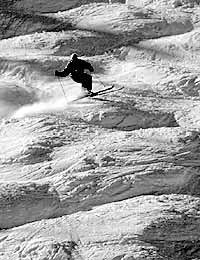 from the February 2000 issue
of BreakthroughOnSkis.com
Moguls
Big bumps, big bumps,
obstacles or friends?
means or ends?
The trapped skier jumps,
lands, falls, swears....
hears the moguls still calling,
feels like a child, falling
down endless white stairs....
Big bumps, big turns,
pole trembles, thigh burns.
To ski in silence,
to turn without violence,
threading our way through rows
and rows of white questions,
endless snows....